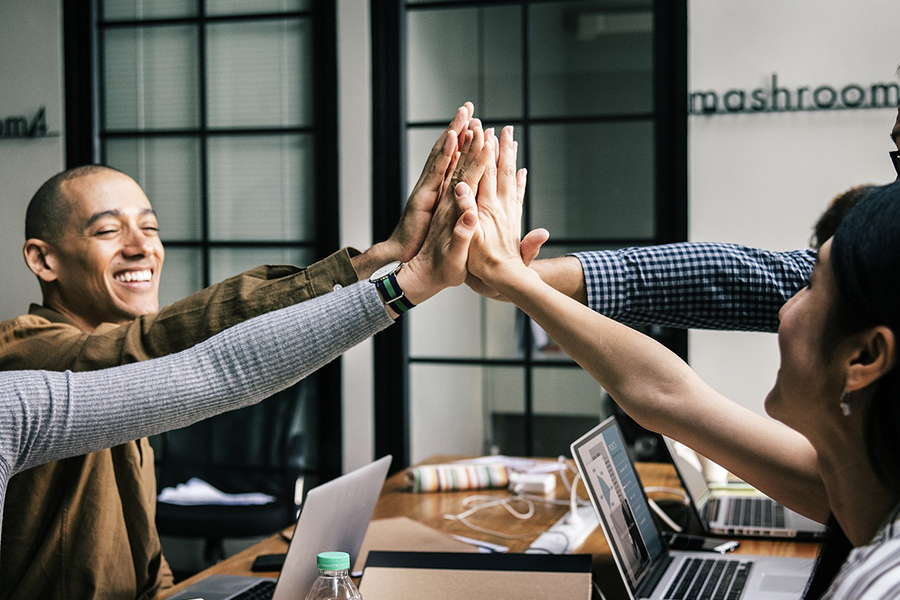 May 20, 2019
Why is Networking Important to Your Success?
In today's fast-paced and connected world, business networking is more important than ever. It can help you stay ahead of the game by establishing meaningful relationships that make it easy to leapfrog you or your business to new heights.
We've put together our top networking tips and explained the benefits of building a strong business network.
Whether you're searching for a job, climbing the career ladder, or looking to share your business with the world, networking can help you get there.
What is Business Networking?
There are two types of networking that have evolved over the last few years. In-person networking and social networking (online) both involve building mutually beneficial relationships with people in your industry or company. The aim is to help you reach out and spread the word about yourself and your business to potential customers or clients.
Ultimately, business networking will help you expand your network, so you can create more business opportunities.
Networking Skills Everyone Should Have
Strong networking skills are a key ingredient for business success. It allows you to build meaningful relationships, which are essential for taking your company or career to the next level.
Everyone can benefit from developing a strong set of networking skills. These skills help you to connect with other like-minded professionals and promote your business or self in the best light.
Core skills for successful networking include:
Setting your intention – what do you want to achieve
Listening
Asking thoughtful or insightful questions
Using positive language
Helping others through your knowledge, skills or connections before asking them for help
Posting regular, but meaningful content
Being honest – you can only hide behind a disguise for so long, so just be yourself!
Confidence
Practice and develop these skills and they will help you reap great results in building strong business networks and starting your journey towards career or business success.
Benefits of Networking
Whether you're looking to expand your business and take your career to new heights, networking has many benefits. For example, networking can help you:
Proactively build relationships
Increase your confidence
Promote the value of your service
Gain a competitive edge over your competition
Importance of Networking in the Workplace
Networking plays an important role in any professional environment as it helps you build more meaningful relationships with your colleagues and create connections across departments.
Online networking platforms don't have the same barriers that come with traditional face-to-face interaction. If you work at a large corporation, your office may span the world or even several stories. However, with business networking platforms, you can collaborate and talk to coworkers seamlessly across the globe.
Establishing strong relationships within the workplace is not only good for productivity and internal communication but also helps promote teamwork and collaboration across departments. Networking in the workplace can also help you boost employee satisfaction and retain top talent, so it's important not to underestimate its significance.
Of course, never forget there are still engagement rules. Be polite this is a work environment; be respectful, if you're having a bad day don't vent online it will be seen and that will not help your career – take a break and grab a coffee; respond and support your co-workers; balance equals having a laugh, otherwise all work and no play will make Jack a dull boy.
Importance of Networking for Career Development
Networking is an incredibly useful tool for developing your career path. By connecting with the right people, you can establish a name for yourself and promote yourself as a 'hot' candidate.
Start by analysing your ambitions and then work towards achieving them by setting mini landmarks that you can measure against your networking results.
Business networking platforms are a great way to discover upcoming career-focused networking events like training and development or new HR lead initiatives. Connect with your HR team who may have access to exciting opportunities perfect for your skill set.
The business networking platform Collude enables owners to create a personalised space that can respond to user demands for sharing, networking and learning which in turn supports the growth of its employees.
Investing in networking is the same as investing in your career. This can result in a host of incredible opportunities and help you gain respect in your industry, so you can access exciting new ventures.
Importance of Networking for Team Building
An important part of social networking is giving as much as receiving. Whilst you can use a platform like Collude to promote yourself and find potential new career opportunities a key benefit is in building strong teams.
Companies can therefore use Collude to setup a Mentor / Mentee network. Finding experts in the business who are willing to give a little time and knowledge to help other team members develop their skills.
The benefits of building strong teams is in creating a strong business culture of support and learning. Connecting diverse sections of the business together can lead to new ideas, breaking down internal barriers and helping HR achieve some of their business objectives.
In the long term this will help drive the business forward in delivering on strategic objectives and financial targets.
Networking for Entrepreneurs
Networking allows entrepreneurs and small business owners to prove their worth, compete with larger competitors and spread the news about their company.
If you're a small business owner, it can be challenging to attract highly-skilled talent and experienced business partners as people may simply not know about your company – especially if you're launching a new company into uncharted waters.
Networking will then play an important role in establishing your business as you'll have the opportunity to build meaningful relationships and establish trust with people who can help you on your road to success.
Talented entrepreneurs use networking to attract investors with deep pockets and seek advice from experts who can help to take their businesses to new heights.
Collude has a direct communication function which allows members to securely chat with other users. So, you can send targeted messages that cut through the noise and content overload to really make a statement.
Why is Networking Important for Your Success?
Business networking allows you to think outside the box and achieve success. It might help you to have an innovative new idea or gain the first mover advantage by engaging with active networks of exciting business professionals.
As a business owner think about the best networks to connect with from local chambers of commerce, non-profit networks or industry specific groups and societies each may help you gain the success or provide the support you need to reach your goals. With any luck they all have a social media platform as realistically attending every in-person event could be a challenge. Key to all networking is to listen and engage that should result in giving and getting support as you look to improve your business model and efficiency. You'll only reach your goals by connecting with the right people.
Start Your Free Trial Today
So, what are you waiting for? Register for your free trial with Collude today.