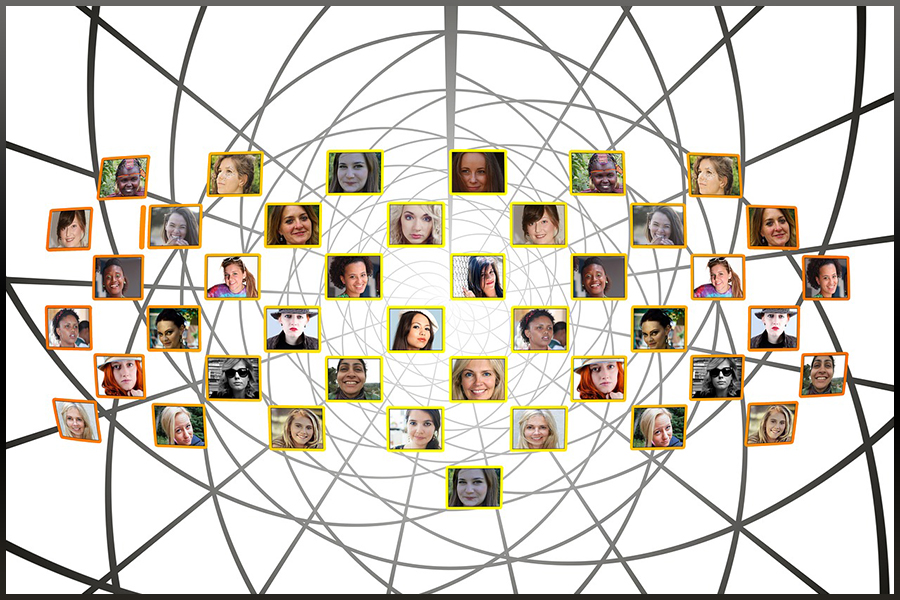 May 3, 2019
4 Types of Business Networking
Do you want to improve your brand's reputation and boost awareness? Or, build a positive company culture?
Business networking has many benefits, but the type of business networking you use will largely depend on your end goal. For example, those looking to improve employee morale may want to focus on internal networking, while those looking to increase sales should attend events with potential customers.
We'll explain the main types of business networking and how they can help you achieve your company goals and objectives.
What is Strategic Networking in Business?
Strategic networking, most simply put, is developing a clear plan or roadmap for networking. This plan will help you choose which types of networking will be most effective and help align your efforts with your larger, overall business strategy.
When creating a strategic network, it's important to develop a clear goal and use the appropriate business networking platforms to achieve these aims. If you have a business strategy to build employee engagement, longer term goals to reduce turnover and improve employee satisfaction then you will need to collect data (before and after) to assess your progress. Platforms like Collude provide analytics that give insight into how your employees engage with their network, so you can then shape their approach and maximise results.
We highly recommend creating a multidimensional networking strategy as this will allow you to cater to a wider range of connections. Multifaceted networking involves incorporating more than one type of business networking to help you cover all your bases. For example, by attending external events, you can connect with peers, customers, sales partners or market providers. Conversely secure, private groups are invitation only and used for that necessary level of privacy to protect your company / network information and grow a collaborative, inclusive and satisfied network culture.
How Multidimensional Networking Works in Business
Implementing a multidimensional network will allow you to seize all of the benefits of business networking and improve your overall business. Multi-layered networking improves multiple aspects of your business as you connect with a wider range of professionals and, as a result, access more opportunities for growth. You might learn about and create better work procedures, gain access to improved distribution channels, discover how you can better support your employees and even increase annual revenue.
Types of Networking Business Opportunities
Before you launch a multidimensional networking strategy, you'll need to decide on the types of networking you'd like to use.
Different Type of Networking
Networking can be broken down into groups and sub-groups. The main categories* below are both formal and informal. We will discuss types of business networking tools you could use to support your business growth.
Contact Networks – defined as local chambers of commerce and local business forums. Usually non-profit and industry agnostic usually localised to a region/area. Good for building your reputation and gaining knowledge through hosted training events.
Referral Networks – such as Hivemind. These are focused on finding business opportunities. They need huge commitment as regular meeting attendance is essential, mandatory for some organisations, to build bonds. The upside is you have a group working to find you referrals.
Community Networks/Clubs – not business focused as such but local services, charities and non-profit groups supporting the local communities. Can still lead to indirect benefits.
Professional associations – usually industry specific like personnel, accounting or health but also include exclusive groups such as IOD or CILT. May need to be 'vetted' to determine membership. Great for developing your reputation and finding opportunities.
On line Social Networks – open and driven by content that attracts followers, think LinkedIn, Twitter, Facebook. Good for brand awareness. Demands lots of input/activity to deliver good content. Can be used to find new employees or sell skills.
* Based on Ivan Misner, PhD & Brian Hilliard's book Networking Like a Pro
A new form of networking is company centric networking. This does not formally fall into the groups above but is focused on the business needs and ways to achieve growth ambitions from a company led networking approach.
Private Network
Private networks, or closed member-only groups, create a secure and safe way to communicate with key stakeholders, members or employees. You create a private network for employees on a training program – Leaders of the Future or for you suppliers to communicate new terms or opportunities.
As private networks are for members-only, they create a safe place to communicate potentially valuable and competitive information or simply to connect with the users and allowing them to develop connections with each other. This should lead to new insight into how your networkers think and feel about business topics discussed.
Benefits of Private Networks
Mobile platform for fast direct access to content and members
Provide company/network-sensitive information
Learn what your members are talking about
Share network specific knowledge that will benefit your members
Directly communicate with members and allow them to share their stories together
Create clear lines of communication, so everyone stays on the same page
Build a stronger sense of team or corporate culture to help retain employees
Business Networking Events
Business networking events help you connect face-to-face with employees, potential customers and even future partners. This type of business networking can be internal or external; for example, you can host company-wide networking events like the annual Christmas party or attend external events to expand your network with other industry professionals.
Benefits of Business Networking Events
Meet other like-minded industry professionals
Connect on a personal level with target audience
Spread the word about your business
Find new opportunities for greater business growth
Bridge gaps between departments by sharing knowledge
Business Networking Groups
While business networking events are often one-off or can recur annually, business networking groups, either online or in-person, are more regular and allow you to get to know members on a deeper level. Business networking groups, think professional, tend to be focused and share business/industry knowledge and external legislative changes.
Joining a group of like-minded individuals is a great way to start networking, especially if the idea of attending a business networking event seems a bit overwhelming.
Benefits of Business Networking Groups
Build closer, more meaningful connections with other members
Develop friendships that could become future partnerships
Expand your viewpoint by often speaking with other industry professionals
Learn new skills through more structured support systems
Business Networking Online
Busy professionals often prefer to network online as it allows them to access and engage with their network on-the-go and at a time that suits them. Online business networking is very versatile and can include closed member-only groups or public platforms.
While users of open business networking platforms need to be mindful of the content they share, platforms like Collude have secure safety features so you can build your digital networks with peace of mind.
Benefits of Networking Online
Build relationships with like-minded professionals across the world
Network at a time and place that suits you
Not schedule or time-specific, so that you can network on your terms
Reach a wide group of potential customers, employees and business partners
Networking in the Workplace
Creating a positive company culture is an important part of employee retention and helps you attract some of the industry's best and brightest. Large companies and corporations can find it particularly challenging to develop a unified internal culture as departments are so large that employees are siloed and often don't know who else works in the building and what projects they're handling.
Networking in the workplace, across departments or borders can help employees build relationships, so they can work better together and feel like they're part of the family.
Benefits of Networking in the Workplace
Help employees build relationships across departments
Boost employee morale and decrease turnover rates
Enable employees to create their own social events to build stronger satisfaction
Increase internal communication by removing blockers
Get to know your staff better, so you can help them develop their skills and create a succession plan
Business Networking Platforms
Business networking platforms, like Collude, can be a valued part of your multidimensional approach. Enabling you to create multiple private member-only networks that support the different parts of the business and the help deliver the company's strategic goals.
Even better, Collude offers the convenience of online networking platforms without any of the security concerns. Our system is hosted in high standard secure data centres managed by Microsoft, so you don't have to worry about data leaks or confidential information ending up somewhere it shouldn't.