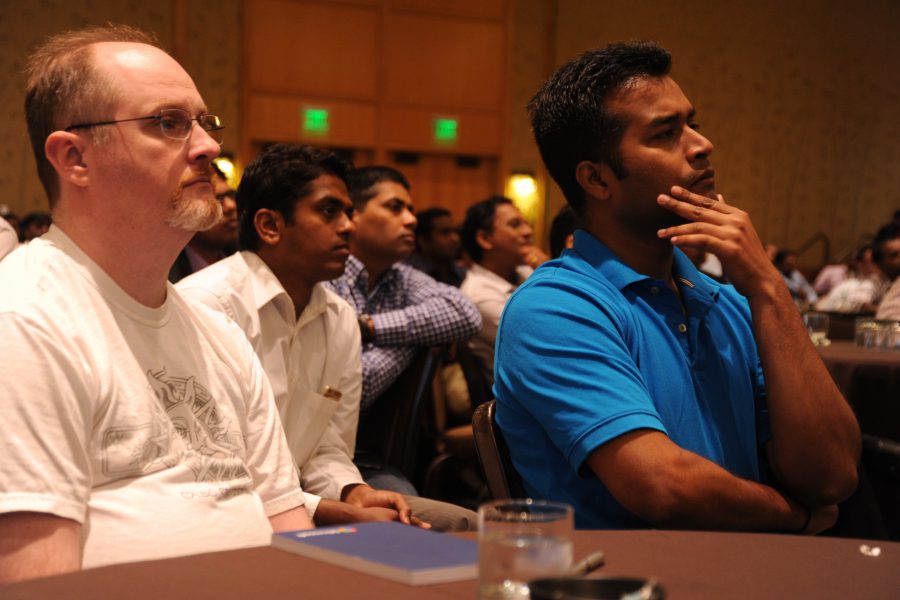 September 16, 2019
Top 10 Benefits of Attending Conferences & Events
Attending a business networking event gives you many different benefits, both personal and professional. You can build meaningful connections, learn from others, scout out your competition, and much more.
With 40% of marketing professionals saying they'll increase their events budget in the coming year, we've put together our top 10 benefits of attending conferences and internal company events.
1.  "What goes around comes around"
One of the biggest benefits of attending an event is the opportunity to support others in your network.
Running an event can take a lot of energy, time, and resources and the host's efforts sometimes go unnoticed. Setting aside time to attend an event shows your commitment and respect.
People are then much more likely to take the time to support you and your business, if you've done the same for them.
Next time someone invites you to an event, think about what it would mean if you attended and how it could benefit your relationship going forward.
2. Build strong relationships with face-to-face networking
Business network platforms are an amazing way to grow your network and discover exciting connections.
However, once you've found the people you're looking for, nothing compares to face-to-face meetings for building trust and establishing concrete relationships.
Research found that 77% of marketers use face-to-face marketing as a key part of a brand's advertising strategies.
There are many fantastic business networking events in the UK. These events are a great opportunity to meet connections in the flesh and create strong business relationships that can blossom into meaningful contacts.
Check-out Eventbrite to find events near you.
3. Step outside your comfort zone
Events are a fantastic way to engage with others in a different environment and step outside your daily routine. External company events give you the chance to meet other like-minded individuals and learn more about your industry.
Learn about how other people do things and open your eyes to smart tips and tricks that could be useful for your business.
Going out of your comfort zone can be scary, but once you get over the initial fear, you'll reap the rewards.
4. Personal development — invest in yourself
Attending events allows you to grow, learn, and leapfrog your career to new heights.
When you're responsible for supporting your company, it can be easy to forget about your own development. But, it's important to make sure your personal development gets the time and attention it deserves.
External events such as Disrupt in Berlin, Unbound in London and Edinburgh's Startup Summit offer you the opportunity to learn from others, build valuable contacts, and discover exciting career paths.
5. Get People Energised
There's nothing quite like the atmosphere or energy of a live event. The difference between connecting with people online and meeting them in-person is like listening to music on an iPod versus front-row tickets to a rock concert.
We love how events inspire people to think creatively, push boundaries and share their ideas with others.
Events are a great way to escape from your day-to-day responsibilities and open yourself up to new ways of doing things.
Internal events can also help you improve employee morale, create a buzz around the office, and get people excited about the future.
6. Mix things up
Impress your clients and get people talking about your brand with an engaging event.
Whether it's hiring guest speakers or sponsoring a marathon to raise money for a local charity, events provide additional value to your customers and employees.
A forward-thinking group from the Midlands recently shook up the accountancy world with their series of guest-speaker events. Labelled 'the rebels of accountancy', their open-armed approach to inspiring employees and welcoming clients is wonderfully unique.
Cooper Parry bring their clients and employees together with a range of experiences including TED Talk cinema screenings, senior citizen tea dances, and comedy nights in support of mental health.
Business events don't need to be strictly business focused. Create engaging activities that promote your brand and support your company culture. Research shows 58% of marketing professionals believe events and conferences are vital for improving customer experiences.
7. Scout out the competition
Business events allow you to keep an eye on your competitors. We're not talking about an undercover 007 operation here, but rather learning from the mistakes of others and building on the things they've done well.
If you can't beat them, join them.
Getting to know your competitors can help you identify your unique selling points and how you can gain a competitive edge. And, once you have a better understanding of the market and competition, you can fine-tune your products and services to the right audience.
8. Showcase your achievements
Internal events are an excellent opportunity to celebrate your achievements as a team. Research has found that a clearly defined company vision and sharing goals with all employees can improve morale and pride within an organisation.
Sales teams actively holding events to celebrate success so why not expand this through all departments or bring a cross section of teams together to build a stronger united workforce.
People like to know that they're working in an inspiring environment with exciting prospects. If employees have an active interest in the success of their company, they're more likely to achieve better results.
Beer O'Clock
At 4 pm every Friday, a London-based start-up swap their laptops for an ice-cold beer.
The weekend starts early for the guys at Streetbees as the entire company gets together for a weekly debrief and a chance to celebrate everyone's achievements.
The simple ritual is a great way to keep morale high and get employees excited about the role they can play in the growth of the company. So much so, that it's already widely adopted within certain industries like marketing and advertising.
9. Represent your company — positive brand exposure
Attending external business events lets you spread the word about your business to a targeted audience and build connections, who can help your business grow.
Think about the kind of people you want to engage, which events you might be able to find them at, and attend these events.
For example, if your company is looking for some tech boffins, get yourself down to Junction Hackathon in Finland or HackZurich in Switzerland. These events are bursting with futuristic businesses and some of the best coding talents in Europe.
10. Break the ice
Starting a new job can be scary — lots of fresh faces, a new office, and joke after joke which goes straight over your head.
Internal events are a great way to make newcomers feel welcome, integrate with the rest of the team, and communicate your company culture from day one.
There are loads of fun ice-breaker games like 'Two truths one lie' and 'The Marshmallow Challenge' which help to get people talking and avoid those awkward silences.