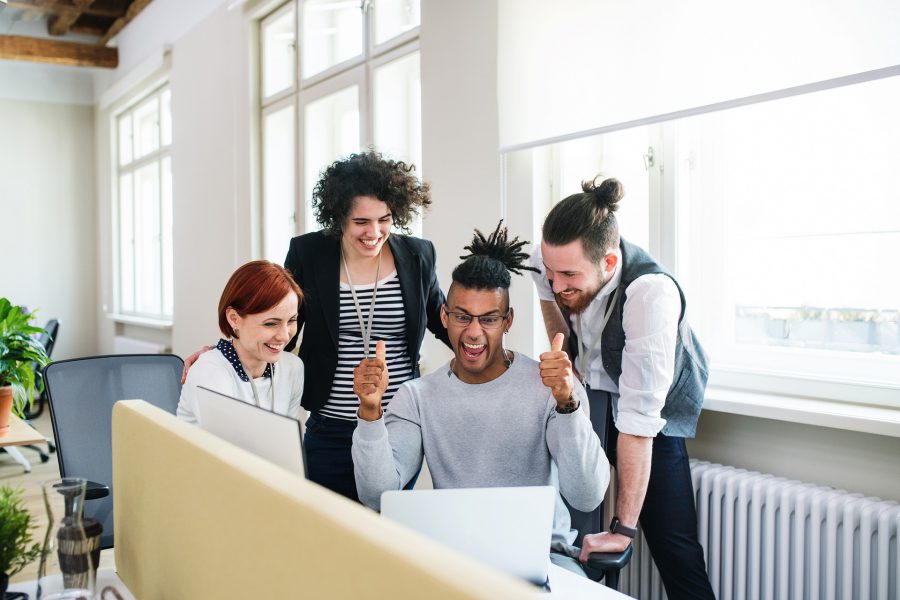 September 19, 2019
Feeding a Sustainable Workplace Culture
The phrase 'company culture' seems to be the talk of the town in modern business.
Whether it's mixing-up your workplace environment, offering flexible hours, or handing out free lunches to employees, promoting employee well-being and happiness is a savvy-business decision.
Taking the time to create a positive company culture that's understood and shared across all members of an organisation brings heaps of benefits.
With some companies experiencing a staggering 26% increase in sales after switching-up their culture, we've taken a deep dive into how HR teams can encourage sustainable growth.
What is Company Culture?
First things first, company culture is much more than an HR buzzword used to describe offices filled with ping pong tables and complimentary fruit bowls.
Most simply defined, company culture is your company's character or personality. It's your ways of working, employee morale and behaviours, your values, and everything special that makes your company unique.
Great HR teams will invest serious time and money in creating a professional environment where all employees have a voice and healthy day-to-day attitudes. And, your company's values, traditions, beliefs, and attitudes are clearly defined and shared.
Company culture is all about creating value for employees beyond a paycheck.
With the average person spending over 90,000 hours in their lifetime at work, companies need to create a happy work environment where employees are fairly rewarded and listened to. Positive company culture helps you retain staff, which in turn reduces the costs of having to re-hire saving you an average of £11,000 per employee.
Why is Improving Culture so Important?
The benefits of improving company culture are endless. Essentially, a company culture helps you attract the best talent, boost job satisfaction and therefore retention, and spread cheer throughout your business. With happier employees, you'll be able to enhance performance and achieve better results.
Whether you're looking for stronger leadership, improved performance, or better talent, HR teams must invest in creating a company culture that puts people first.
Here are just a few ways companies with an influential culture have seen sales soar and employee satisfaction rates rocket.
Better Leadership
A big problem for many businesses is finding leaders willing and able to change their behaviour. Business leaders need to embrace their company's culture before communicating it to others.
With less than 28% of business executives claiming to understand their organisation's culture, it's hardly surprising that many employees are in the same boat.
You can't expect an entire workforce to follow a company's culture if their superiors don't lead by example and demonstrate it consistently. Strong leaders guide their teams with a clear vision, expectations, shared experiences and good decisions. Their recognition of talent gains employee trust and creates a nice work environment.
Successful HR teams will invest in training programmes that will support leaders in re-enforcing core values and beliefs.
Attract the best talent
Studies have found that it costs half as much for companies with strong employer brands to hire a new employee. A strong company culture, complemented by a clearly-defined brand, can be a useful tool for attracting the right talent to your business.
When a company openly broadcasts their honest values to the rest of the world, they cut out the need for recruitment teams to fish through thousands of applications. Social media is a great way to send out these positive messages.
Different company cultures will strike chords with different individuals. Be honest with who you are and what your company can offer, and the right people will walk through the door.
Increased performance
Highly engaged businesses with a clear focus on company culture routinely experience a 10% increase in customer satisfaction and improved sales by a staggering 20%.
A clearly defined company culture can strengthen your business strategy, which in turn improves employee performance and satisfaction.
Employee morale, individual ownership of tasks, and work rate are all factors which can affect employee performance. A report by Deloitte on culture and engagement says:
Organizations that create a culture defined by meaningful work, deep employee engagement, job and organizational fit, and strong leadership are outperforming their peers and will likely beat their competition in attracting top talent.
Feeding a Culture Transformation
Culture is like the wind. It is invisible, yet its effect can be seen and felt. When it is blowing in your direction, it makes for smooth sailing. When it is blowing against you, everything is more difficult. — Harvard Business Review
Now that you understand the benefits of transforming your company culture, the tricky bit is knowing how to sustain these changes and maintain a consistent vision. There's no point investing in a renewed company culture if the changes are forgotten about 12 months down the line.
When you're creating a company culture, it's important to focus on success stories and results. Explain what steps were taken and highlight any foreseeable hurdles that may prevent the change from sticking.
Also, get your HR team on board. HR experts understand that culture is constantly changing and requires regular housekeeping to avoid disappointed employees, confused managers, or unhappy balance sheets.
Successful HR planning will focus on changing company culture to meet the needs and desires of current and future employees. A company's culture is never complete and is an ongoing responsibility which helps a company to achieve sustainable growth.
Tips for Creating a Sustainable Company Culture
Sustaining your company's culture doesn't need to cost you an arm and a leg. Here are a few simple pointers to help nudge your company in the right direction and avoid old habits creeping back.
Include employees in decision-making
Rule one of successful HR is listening to your employees. Create a responsive and natural line of communication between employees at all levels so everyone can voice their concerns or ideas.
A 2014 study found that employee participation can improve overall company performance with increased employee morale, commitment, satisfaction, and productivity.
On July 23rd, 2018, over 18,000 Microsoft employees travelled across the globe to bring life-changing ideas to life at the largest private hackathon in the world. Microsoft's annual global hackathon gives all employees (at all levels) the chance to share their creative ideas and make a difference to the company.
'Walk the talk'
A company's culture is defined by the actions and behaviours of its employees. Business leaders must lead by example and 'walk the talk' if they wish other employees to live by a certain set of values or rules.
When Ginni Rometty took office as IBM's CEO in 2012, she was praised for introducing herself to her team of over 400,000 employees via an online blog post.
IBM wanted to move their culture away from impersonal emails and encourage employees to start more meaningful conversations via social media.
This top-down leadership approach, where a senior individual has led by example, promotes clear cultural values which employees are more likely to adopt.
Speak about your culture
If you're proud of your company culture — shout it from the rooftops!
Broadcasting your values and mission statement to the world is a great way to attract amazing talent who really believe in your culture from day one. If you don't talk about your culture, new employees may try to introduce their own beliefs or values which don't gel with the company's.
HR teams should make it a priority to incorporate sustainability into their brand to attract people who will embrace it with open arms.
Your Vibe Attracts Your Tribe
Feeding a culture transformation is like looking after a newborn baby. It needs lots of attention, plenty of nourishment, and even the occasional diaper change.
Company culture is much more than a set of values. It's about being sympathetic to the needs and desires of your people and open to change as you work towards achieving a shared goal.