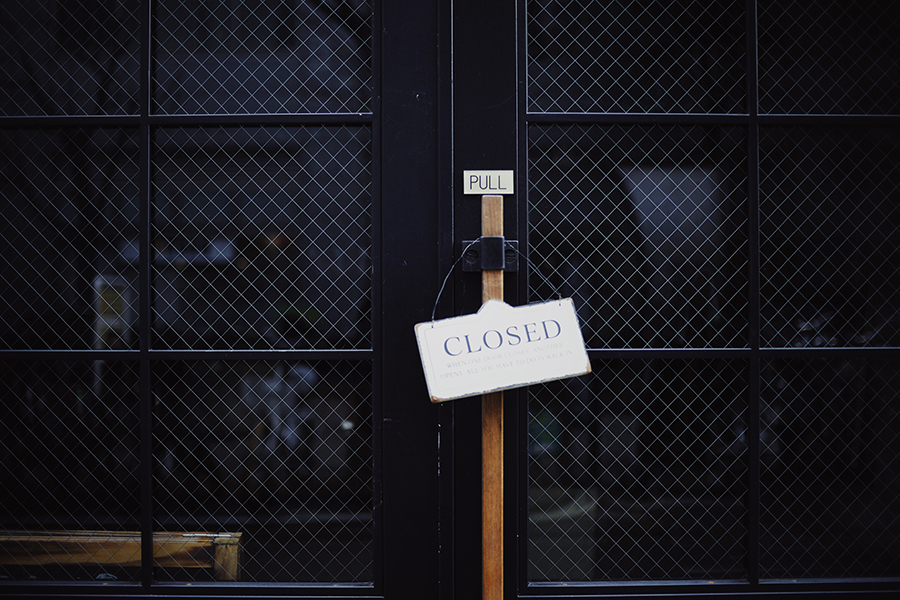 January 23, 2020
Are We Facing a Brick-and-Mortar Apocalypse?
As online shopping continues to rock the boat for retailers and thousands of brick-and-mortar stores continue to close their doors today's sales teams find themselves in an unusual position.
Over the last decade, the retail industry has changed. Customers' shopping habits have evolved and brands are increasingly moving away from physical stores to compete with e-commerce giants.
Leaving many to wonder whether this is the end of brick-and-mortar retailers or whether there's a light at the end of the tunnel.
Join us as we discuss the factors forcing big retailers to close and how forecasting technologies can help sales teams to steer their business away from the storm and towards clearer skies.
What Can We Learn From Major Department Store Closures?
With Debenhams falling into administration in April last year, House of Fraser announcing multiple store closures, and a record 10.3% of the UK's highstreet shutting their doors, 2020 promises to be a difficult year for UK retails.
Established department stores and successful chains were once the backbone of British retail. But, many are now facing darker times as shoppers look elsewhere for their favourite bargains.
CEO of the British Retail Consortium, Helen Dickinson, explains how "2019 was the worst year on record and the first year to show an overall decline in retail sales."
Whether its rising online competition, economic uncertainty or poor politics brick-and-mortar retailers can't hide from challenges in the coming years. The retail world is changing and brands must adapt to stay ahead of the game.
So, is this the end for physical stores, or is this talk of doom and gloom the wrong approach for sales teams?
Let's take a look at how the brick-and-mortar retail sector can spin things on its head and live to fight another day.
Brick Walls are Tough to Knock Down
Despite what you might read in the news, brick-and-mortar retailers still hold the number-one spot in the retail sector.
While the e-commerce market is growing at an alarming rate, online sales will only account for 12.5% of the global retail sector in 2020. In the wake of huge department store closures in the UK, physical stores continue to play a pivotal role in the retail industry.
The brick-and-mortar retail sector shows no sign of going down without a fight.
Whether it's using physical stores as showrooms to incentivise online sales or investing in the latest tech to improve in-store experiences, physical stores are far from finished.
So, how can brick-and-mortar retailers adapt to changing consumer demands?
Choose Online-Offline Hybrids
In 2016, 70% of customers made purchases from brands with a strong presence in both the online and physical worlds.
As consumers increasingly demand convenience on their doorsteps and the power of omnichannel marketing grows, striking a balance between online and offline commerce holds the secret to sustainable growth.
The battle between physical stores and e-commerce sites is really two sides of the same coin. Successful sales teams will see the evolving retail landscape as an exciting opportunity to add to, not subtract from, the customer journey.
Experience is King
While the convenience and cost-savings of today's online retail space are attractive for modern customers, some areas of the physical in-store experience are hard to re-create online.
For example, brick-and-mortar stores allow brands to create immersive shopping environments and interact with customers through a cocktail of sensory inputs that enhance the overall shopping experience.
Whether it's a hipster clothing brand playing old-school records or a grocery store offering free tasters, multi-sensory shopping satisfies our desire to look, touch, smell, taste, and even hear as we move around a store.
Create Accurate Sales Forecast
The secret to success for any retailer is understanding your market and getting your hands on valuable customer information to stay one step ahead of your rivals.
Within a struggling market, it can be very difficult for sales teams to predict what lies ahead.
If you're trying to stay afloat in a market where everyone around you is dropping like flies, you're left with a decision — fight or flight? Should you surrender to forces beyond your control or view the stormy waters as an opportunity to forge a new direction?
If you choose to fight, creating accurate demand forecasts will give your sales team the direction they need to find calmer water.
Accurate forecasting helps you manage inventories and meet customer expectations by stocking the right products at the right time.
How to Forecast Sales for Maximum Growth
While there's no perfect recipe for predicting the future, sales teams can adapt their forecasting strategies to increase accuracy and avoid wild miscalculations.
Demand forecasting requires combining both internal and external data to draw a clearer image of the future. Internal data includes anything from historical sales figures to loyalty data, and external factors could include economic fluctuations, fashion trends and even rivals in the same sector.
Increasing the Accuracy of Your Sales Forecasting
Here are our three top tips to increase the accuracy of your forecasting:
Invest in the right technology. Your sales team needs sophisticated inventory management software to collect accurate data about the stock you hold.
Establish clear targets. Unless you have a general idea of what direction you want your business to take, you won't know what data to collect or what information to listen to.
Archive your data. Too many retailers collect tonnes of valuable information and fail to do anything with it. It's important to record as much data as possible and collect data for individual customers to build accurate forecasts in the future.
Times Are Changing
While it's easy to look back on the glory days of brick-and-mortar retail with glassy eyes, retailers need to recognise that businesses have to move with the times.
As long as people need food, clothing and entertainment, there'll always be a demand for retailers in some form.
The biggest mistake a retailer can make is to turn a blind eye to how the industry is changing. Whether it's a major supermarket brand or a boutique fashion line, customer expectations have changed, and new competitors will continue to enter the market.
Instead of viewing the strain on physical stores as the 'end' of brick-and-mortar retail, sales teams should embrace the opportunity to adapt their business and create something bigger and better.